Momo Love
Code Green
Momo Love
Also known as: Tao Hua Xiao Mei
Country: Taiwan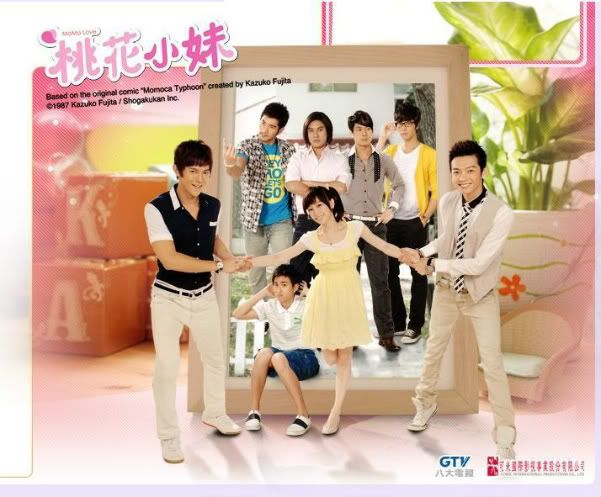 Synopsis:
Tao Hua is a kind-hearted girl, who has five older brothers: Chen He, Chen Qi, Chen Cheng, Chen Zhuan, and, Chen Yu Yi. Chen He, Chen Qi, Chen Cheng, and Chen Zhuan are very over-protective of Tao Hua, on the other hand Yu Yi lets Tao Hua slack of and have her freedom. When Tao Hua meets Shi Lang, she is immediately falling head over heels for him. The only problem is… will her four over-protective brothers accept their feelings for each other. When Zhi Qiang and Hui Qi come into the love triangle, it becomes a battle worth fighting for. Will Tao Hua and Shi Lang be together or will Tao Hua's four brothers, Zhi Qiang and Hui Qi break them apart?
Visit this page for more details: MDL
Trailers
I loved the OST
The show started off as a really cute and funny romantic comedy. I was thrilled to see such good acting. The cast was all great, they fit their roles perfectly. Jiro Wang and Calvin Chen did awesome jobs. Calvin really impressed me with his comedic performances. I had previously only seen him in the drama Romantic Princess and wasn't too impressed with his performance in it. Jiro I had seen in It Started With a Kiss previously, and while he did a great job in that drama I noticed that his acting in this one had improved even more. So I was super happy with the acting. HOWEVER! I hate when you are watching a drama that started out with such potential, then all of a sudden the plot goes awry. Suddenly there's all these extra side plots that just don't mesh together well. They all of a sudden pull the story in 20 different directions at once. Which in some dramas works, but only if they are set up for that kind of change. A lot of dramas though aren't equipped to handle this. You start off with a straightforward rom-com, then all of a sudden towards the end (as in the last 4 or 5 episodes) there's a ton of different cliché plot scenarios thrown in? Not a good way to write a script.
I rated it a 5/10
✩✩✩✩✩